Children's (K-5th)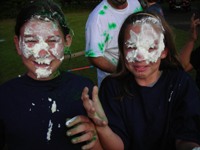 Welcome to our Children's Ministry!
(K -5th grade class)
At Horizon Community Church children are important.
Our goal is to provide an age appropriate, safe, fun and
exciting environment for children to learn about and
develop a growing relationship with Jesus Christ.
Yes, you can learn about Jesus while you're running around,
playing games, and having fun!
Students start out together for songs, games and the Bible lesson then move into small groups for age-appropriate discussion, prayer and activity.

All volunteers have willingly gone through a criminal background check
to help protect your children, our volunteers, our church,
and the Kingdom of God. We always welcome new assistants to help in our children's ministry classrooms.
We hope to see you soon!