What to Expect at Horizon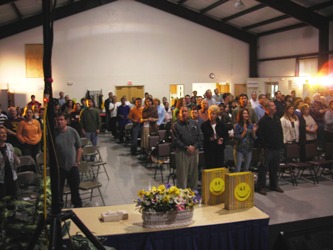 We believe that the church is not a building, nor a meeting of people on Sunday mornings. We believe the church is the people of God seeking to follow Jesus Christ and living in the power of God Sunday through Saturday, 24/7. We do gather for a time of worship on the weekend to celebrate God and be renewed in our relationship with Him and others.
What to Expect on My First Visit of a Weekend Worship Service?
From the moment you pull into the parking lot, you will see signs directing you to the entrance of Horizon Community Church. There's even a place to drop off people at the entrance and then park your car. You will be met by friendly people ready to give directions or answer any questions you may have. Be sure and check out our Guest Services table to pick up some info and free gifts. You will receive a brochure that has information about upcoming events and service themes. Each service is approximately one hour in length.
What is a Weekend Service like?
At the 10:00 AM service you will experience...
A creative and innovative presentation of God's truth that will help you better understand Christ Jesus and challenge you to live and think differently Monday through Saturday.

A casual dress atmosphere.

Video and Drama presentations.

Music that you might recognize from the radio, music that is now and alive! Music presented by a band that is made up of people from various walks of life.

Messages that are Biblical, uplifting, make sense and can be applied to your everyday life.
Where Do I Take My Children?
During the 10:00 AM service you will find friendly, caring and helpful people from infants through 12th grade. Our Infant care offers a warm and caring environment for your little ones. Preschool children will enjoy learning about God as they experience Bible stories along with crafts, music, play time and group interaction. K through 5th grade will be excited to be a part of Horizon Children's Ministry as they enjoy games, music, videos, and crafts as Bible lessons are shared in fun and innovative ways. They will be the ones reminding you that it is Sunday and time to go to church! 6th - 12th grade students will be able to hang with their peers and friends in the Student Ministry Class on Sunday mornings.