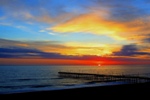 On February 1, 2010 Horizon Community Church officially began when Sunrise Community Church and Lee Memorial Baptist Church combined and became one church.
Sunrise Community Church was started on Sunday, April 9, 2000 by a group of people working with local churches who wanted to try something new and different. Sunrise was a planned church plant in the Tri-Cities area of Chesapeake, Suffolk, and Portsmouth. We had met in six different locations on Sunday mornings and began meeting at the facilities of Lee Memorial on Monday, December 24, 2007 for our Candlelight Christmas Eve Service. The two churches shared facilities and worked together for two years before officially becoming Horizon Community Church.
Lee Memorial Baptist Church began in 1984 by a group of people looking to start a church in the Western Branch area of Chesapeake in order to provide a ministry that would help people experience God's love.
Horizon Community Church, the combining of Sunrise Community Church and Lee Memorial Baptist Church, is a new church that is helping people experience God's love and hope through accepting Jesus Christ as their personal Lord and Savior. We are excited about the union and are moving forward as we seek to make a positive difference in God's beautiful Kingdom.
We as a church realize that church is not a building. The church is the people of God sharing God's love and goodness with others. We will help people discover and experience God's love and become totally committed followers of Jesus Christ. We lead people to understand that they are difference makers, world changers and Kingdom builders. As we serve Jesus Christ we will seek to make a difference in the lives of others. We are full of hope for the future because we know that God is awesome and wonderful and is moving in our presence and throughout the world.